Green Crack AAA
A true legendary strain that at this point has created it own myths. As the story goes a select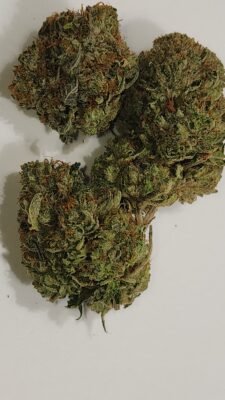 phenotype of Skunk #1 was crossed with a yet unidentified Indica (likely a Hindu Kush or Afghani) in
Ohio in the 1990's. It was a jealously guarded strain and was commercially unavailable in most markets.
Eventually and at great cost clones became available, and from those original clones that got out comes
these amazing nuggets. Green Crack has this super sweet like sickly sweet candy fruit taste and smell.
Effects are felt mostly in the body with the relaxation of muscles and can alternate between energizing
and zombifying depending on the amount consumed and the phenotype. Presentation can vary from
very light greens to deep purples but always so many trichomes that it literally glistens in the sunlight.
Green Crack can make for a great daytime pain reliever and can help expand the mind while meditating. I
personally love this strain but it can produce paranoia and anxiety in some individuals hence the name
Green Crack so buyers should be aware of this before consuming this beautiful monster of a strain.